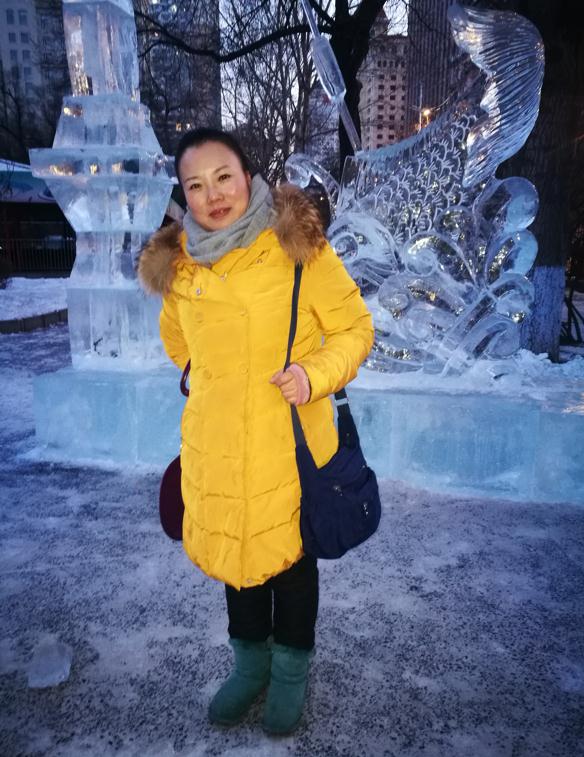 I am Harbin Private Tour Guide founder –Samantha Song
I want to say something here
I was an English teacher before, but I have been an English speaking tour guide for 8 years
Form one guest until today several hundred guests on winter season, I work not just for money, also for interesting, when I was 30 years old I found what I want to do, now I am 38 years old, still an English-speaking tour guide in Harbin.
A few of clients say my private tour is a bit expensive than others, I admit our price is not cheap, I have never offer cheapest price with best service, because It cannot happen in short tour season cold weather, that is just a lie. I offer reasonable price, If you are young people or poor people, you can let me know I still offer you tour with the price you can offer. or We can find way. If you are coming to me, please don't compare price, and believe in different price different service.
I always keep my words even I lost myself money.I havenot cheated my clients behind.
And When you are on the tour, Your private English speaking tour guide always accompany you all attractions follow itinerary, We have never left you alone at Ice Festival( Harbin ice and snow world) or Snow Fair on Sunisland, Our Harbin tour guides will follow you get into attraction and telling something to you and taking looking around. I saw many others company English-speaking tour guide just help you get into attraction and let you travel alone. and tour guide find a warm place waiting for you out.
And Our private tour guides enjoy tour with you, She/He want you also enjoy it.
I tell you some cases I have met.
One day I saw an English speaking man tour guide like more then 40 yrs, he took one family 2 children and parents , I finished indoor ice and snow world get out with my guests together, I let my guests try to drink Ginger water with brown sugar, It can get away cold, We were drinking , that man guide come out behind us, he talked to worker, don't let his guests to drink Ginger water, He said They will go to bathroom waste time, after He sit the chair waiting for his clients out, I know this guide offer Harbin cheapest price with best service.
It is just one case, many bad cases happen.
Another case I was with my guests plan to leave snow fair on sun island, I saw many visitors just come into snow fair, I was talking to them where are you from, they are from Hawaii, snow fair on Sun Island is best time to visit in day time, not dark time, we do the tour let you enjoy with right time, not just do it. They came almost dark time, this time come into will save some money for travel agency(day time and night time entry ticket is different), but visitor lost chance to see what they should see beautiful.
Last case here, My one guest quote from me, at last maybe he cannot find an English-speaking tour guide, he decide use our tour guide, but don't use private car from us, he thought our is a bit higher than he found by himself (his friend used before, ) when our tour guide meet him driver, him driver want to cheating him from behind, get more money, our guide afraid, She have never done it before, She talked with me, She don't want to work with the driver, the driver always push her to do what he want to do. I talk to my guest I want to give him money back, We don't want to lost us reputation with his cheaper and irresponsible car. But the guest still want our guide service for him, but during his trip in Harbin 3 days, not enjoyable, he was just guarding his driver, and the driver on way fighting with other driver. from money side, my guest save some, but from mentally, he lost a lot, more than he save several hundred Yuan, I think he plan this trip spend lots of money, but Because not happy to pay, just think cheaper, lost more then save money.
Private tour price like different level hotel price , hotel price from US$ 30-500 dollars, how to you compare price about private tour service. different car(clean, unclean, smoking, no-smoking), different driver(polite, rude, reasonsible, carefree), different English speaking tour guide, English level is different(good, bad), service attitude is different, operator service concept and principles also different and so on.
Harbin Private Tour Guide offer 5 stars service, charge is reasonable price maybe a lit higher in peaking time.
But we know what we can offer to you make you enjoy your trip in Harbin with smile everyday.
Anything want to know about Harbin, please feel free to ask, We not just offer the tour also can help you find what do you want to know about Harbin. I am local in Harbin
harbintourguide@163.com or WeChat: icefestivalharbin